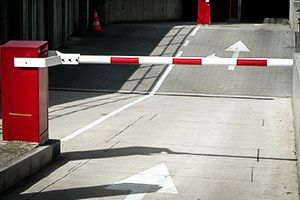 Boom Barrier
A boom barrier is indispensable when securing your company or private property. It is a simple solution to shield an area from unauthorized vehicle access. Boom barriers can be used at parking lots, business premises and bridges and many other locations. A boom barrier is provided by Bavak with various functions such as lighting, skirts or even an access control system. Due to the different types of boom barriers and expansion options available, you can find the right boom barrier for every situation.
The Bavak boom barriers are used as a cost effective method to regulate or limit traffic to certain areas. When there is no need for a Speedgate, but a temporary closure is desired, a boom barrier is a good solution. The boom barriers supplied by Bavak are also available in special designs.
Boom barriers by Bavak
As stated, we come across the Bavak boom barriers in many different places. For example at commercial parking lots, industrial sites, level crossings, viaducts and bridges or government buildings. In short, any terrain that needs a 'simple closing solution is best off with a boom barrier.
In case you would like to know more about the Bavak boom barriers, please feel free to download the brochure from the bottom of the page.
Boom barrier operations
For example, a boom barrier can be operated from a manned security point or by the occupant of a vehicle. If desired, this can also be done by means of a 'payment card' or by a wide range of access control systems. These include proximity cards, license plate recognition, keypads and also intercoms. These access control systems, combined with an induction loop in the road surface, ensure that the boom barrier arm can be opened and closed smoothly and safely. All Bavak boom barriers are reliable, robust, quick to install, easy to operate and very cost effective. Made of high quality steel and equipped with a Feig control, all Bavak boom barriers guarantee smooth and consistent operation. Even in the most demanding parking environments.
Boom barriers - extra options
A wide variety of possibilities for your parking or security issue make the boom barrier solution complete. The following options are a brief overview of the available extras; warning and information stickers such as 'STOP' 'NO EXIT' or 'NO ENTRY', Boom barrier arm lighting - LED lighting on the boom barrier arm to mark the boom barrier, a traffic light system - consisting of Green / Red, or the articulated arm - which is intended for entrances / exits with limited height.
It is therefore possible to supply the boom barriers using a wide range of special features. For example, with a so-called "skirt" above and / or below the arm or with an articulated arm mechanism. If the need is there, Bavak can also supply them completely vandal-proof.
In short, we always deliver all Bavak boom barriers as custom made.
Boom Barrier brochures
In case you would like to know more or more technical details, please see below the brochure download. There are four different brochures available in one download:
The MCS25 is a barrier that is frequently used at private areas or car parks of smaller offices.
The MCS51 is suitable for use at industrial projects and large car parks.
The MCS58 is the most versatile barrier and extremely suitable for intensive use.
The MCS61 is by far the largest barrier in the series.
Why Bavak
The specialists at Bavak know the boom barriers very well and have been realizing successful implementations for years. As a result, there is also a lot of expertise available which we are happy to use to make things easier for our customers.
So it really depends on your wishes and your situation which of the boom barriers is best for your situation. Please contact our specialists to see which boom barrier can be chosen as the best solution.
Download the boom barrier brochure for more information