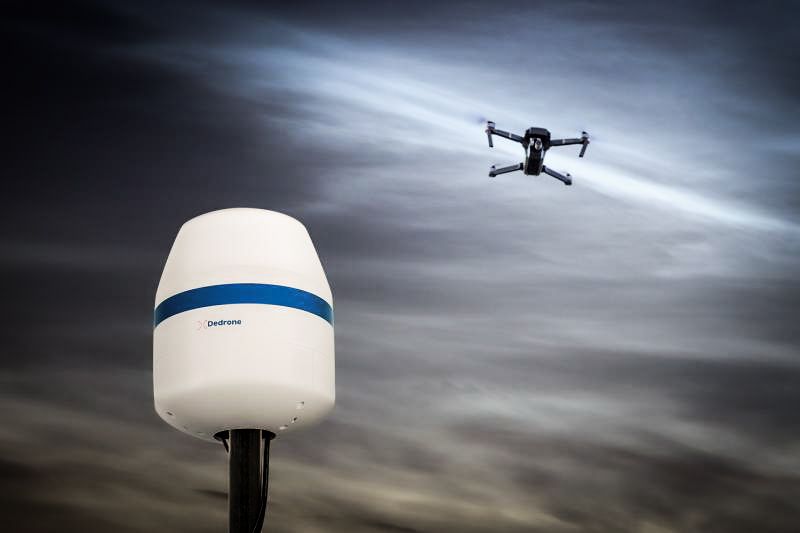 Drone Detection
Drone Detection is required. For years a good perimeter protection was sufficient to protect critical infrastructure. But since the threat can also come 'from above', drone detection is a necessary innovation.
For example, one's privacy can be compromised by a drone in the hands of a malicious party in the form of espionage or a cyber-attack. The ease with which a drone of a criminal or terrorist can get above critical infrastructure constitutes a serious threat. But we also see an increase in reports of drones above prisons. Common alarm detection systems such as burglar alarm systems cannot be used to detect drones. Here Bavak offers a solution with a full-fledged Drone Detection system.
Drone Detection
Drone detection requires a layered approach that keeps pace with the evolution of drone technology. Bavak's system includes several sensors that connect to the DroneTracker software, which detects and classifies drone threats. The system directly locates the drone and displays it on a 'pre-set map' and, if necessary, can do the same for the drone pilot. After this, passive and active countermeasures can be enforced, after which the defense mechanism can be adjusted according to the severity of the threat.
The drone detection system consists of several components, which are the sensors, validation software and user environment. In case you would like to know more about the Bavak drone detection solution, please feel free to download the brochure from the bottom of the page.
Why Drone Detection
With the drone detection you can place a 'virtual security' dome over your location and by doing so be warned of drones flying into 'your' airspace. There are various kinds of threats, these can be from espionage to attacks. The system is very user friendly and can, in addition to direct alarms, also push simple or complete reports to various mobile users.
RF Sensors - for Drone Detection
The software connects the sensors and performs analyses to learn from them. Thus, the software is directly the central system for the complete solution where sensor information is validated and correlated. The forensic information is also stored here, e.g. for research purposes. The unique ID, type and so-called MAC address of the drone are stored and thus it can be compared with previous detections.
Then there is the user environment. This web browser-based user interface can be used on a separate or an existing control room monitor. The interface is user-friendly and requires little training to work with. Which measures need to be taken depends on the nature of the threat and the circumstances. For example, does the drone have an unknown charge / explosive or just a camera? But also, where is the drone located? Everything can easily be read so that immediate action can be taken.
Drone Detection Event kit
Finally, Bavak also supplies a Mobile Drone Detection solution in the form of the Event Kit. This kit is designed for use at (temporary) events such as concerts, state visits, conventions and sports or other events. This kit includes multi-sensor hardware and software. The complete kit is delivered in a flight case and is fully operational as a standalone system or can be integrated into existing control room systems. Especially the latest version is ideal to use for events and temporary deployments. At various (government) events the Mobile Drone Detection unit has already been used extensively and effectively.
Why Bavak
The specialists at Bavak know the Drone Detection equipment and software very well and have been realizing successful implementations for years. As a result, there is also a lot of expertise available which we are happy to use to make things easier for our customers. It is also possible that Bavak assists you in the case you need to rent the equipment for an event. This assist ranges from simple construction of the equipment to full extensive project management.
Bavak has its own training service with which we can fully familiarize your employees with the system. This prevents, for example, that only the security manager knows how everything works. This training can also be 'repeated' so that your employees are always aware of all the ins and outs.
It really depends on your wishes and how Bavak can help you further with the Drone Detection systems. Please contact our specialists to see which modification of the system can be chosen as the best solution.
Download the Drone Detection brochure for more information